Matthew Chesky, COO of Insuritas, is Inducted Into the Hartford Business Journal's 2018 Class of 40 Under 40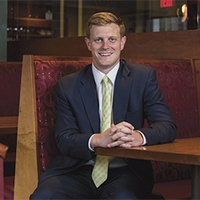 Insuritas is proud to announce that Matt Chesky has been inducted into Hartford Business Journal's 2018 class of 40 under 40.  Matt Chesky is the chief operating officer of Insuritas, a leading insurtech company headquartered in East Windsor that operates virtual insurance agencies for financial institutions. Chesky joined Insuritas after graduating from Yale, and assumed the role of COO in 2016.
As COO, Chesky is responsible for driving growth and operating efficiencies in Insuritas' call center, managing its corporate development strategy in its core verticals and aligning investments in the company's technology platforms with overall corporate strategy.
Under Chesky's leadership, the company has achieved 40 percent-plus year-over-year recurring revenue growth and has become one of the fastest-growing insurtech companies nationally.
Read the full article on HartfordBusiness.com here.
About Insuritas
Insuritas has reengineered insurance distribution in America; simply changing the way insurance works – by building a scalable platform that currently has a comprehensive knowledge of and active engagement with nearly 9 million retail and 1.5 million small business insurance buyers. Insuritas has reengineered insurance by building complex, private labeled insurance agency solutions embedded into the financial services industry, enabling these firms to own a turn-key insurance agency and offer their customers a comprehensive set of insurance & risk management products through a white-labeled, digitally-optimized solution installed, managed, and optimized by Insuritas. Insuritas has built a single fully integrated platform that can connect the over 300M+ insurance buyers in the US, and all of their annual insurance needs to insurance carriers in a single, virtual insurance agency eco-system, collapsing the fragmented and antiquated customer acquisition, quoting and policy issuance model and finally replacing it with intelligent insurance. For additional information, please visit www.insuritas.com.
About HBJ 40 Under Forty
The 40 Under Forty Awards recognize outstanding young professionals in the Greater Hartford area that are excelling in their industries through their leadership roles. They are driven by success, motivated by challenges and are role models for their peers. In addition to an awards event, winners will be recognized in a special issue of the Hartford Business Journal.
These individuals are part of an outstanding class of upcoming business leaders and share a commitment to business success, personal growth and community involvement. Join us in celebrating the 40 Under Forty awards; this event is an excellent networking opportunity and learning experience for aspiring business leaders. #HBJ40U40